Imagine, just for a moment, the state of this nation if we had a media that reports rather than advocates. 
Please help us make that a reality.   
Help RATM in the fight for honest journalism.
Or for the more committed
BECOME AN OFFICIAL MEMBER
of
Rage Against the Media
As long as the press advocates for those who oppose us, nothing we do can be effective.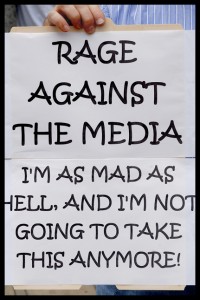 When policies and candidates of the one side are propagandized for, and when alternate views are ridiculed, slandered, silenced, Americans are deprived of legitimate choice.  If you believe that all Americans deserve the best information possible and that the betrayal by our news media must stop, PLEASE JOIN US.
Contributions to candidates and parties are rendered ineffective as long as the media is a PR tool – contributions to RATM go DIRECTLY to fighting those who refuse to honor their responsibility to ALL Americans.
BECOME A MEMBER and help us FIGHT FOR HONEST JOURNALISM
$50 – Friend of RATM – we'll send you a RATM bumper sticker
$100 – Sponsoring Friend of RATM – you will receive a RATM bumper sticker and an official RATM water bottle
$250 – Silver Sponsor of RATM – a RATM water bottle, a bumper sticker, and recognition on our website of your membership at the Silver level
$500 – Golden Sponsor of RATM – a RATM water bottle, a bumper stickers, recognition on our website of your memberhip at the Gold level, and the opportunity to set up a table for your organization at our next function
 ALL DONATIONS ARE APPRECIATED
We can't do this without you!  Here's our PayPal button –  you know what to do.