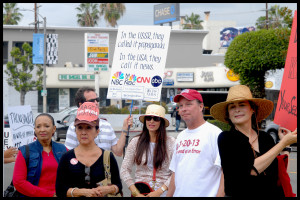 Rage Against the Media is hardly the first organization to recognize and fight against the American "news" media that has as its fundamental purpose the propagating of an agenda rather than reporting.
But we ARE the only one that believes that each of us can play a role in the fight, beyond simple boycotts (who of us actually watches that stuff anyway!) and petitions (they have their place, most certainly).

Of course, we do what we can with those.  But we go further.  RATM provides a whole host of ways each of us can play a role in battling for better information from our Fourth Estate.
Protests
Are they the answer?  Of course not.  But they are an opportunity to demonstrate that we care enough about the media's betrayal to take a stand against it, and perhaps more importantly, to bring their betrayal to the attention to those who don't even realize they're duped.  Read here about why we do them, here about some reactions to them, and click here to find out about the rallies and protests we've held in the past.
How YOU can help make these be successful:
When there's a protest near you, be sure to attend if at all possible.  Nothing says we're OK with lying media than a protest people don't attend.
If there ISN'T one near you, volunteer to organize one.  Contact us and we'll help you.
When you see one announced, help spread the word!!  Facebook, twitter, emails – all these are great ways of helping to get the word out.
Social Media
Facebook – RATM is extremely active on Facebook. Find our page, and our group.  The group, of course, is where the bulk of the action is.  Read more here and here
Twitter – the power of twitter is extraordinary.  Follow us on twitter, and when you post topics related to media bias, deception, deceit, be sure to use the hashtag #RATMedia.  For some help getting started, click here

Be the Media